Sugar Hill – Day Before The Race.
Rich & the guys at Bicycle Tech are putting together my new race bike – a Jamis Dakar XCR Team, SRAM xx1 drivetrain, Shimano XTR brakes, Stan's Crest wheels. Except for a bit of a snafu with the bottom bracket, the chances of getting this baby rolling for Sugar Hill is looking sweet. Sugar Hill is a very hilly course, and this 24 lbs. dream bike would be perfect for the course.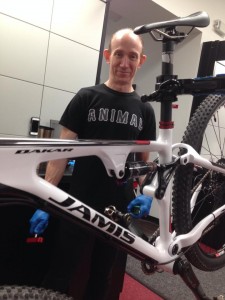 At the 11th hour, Rich pulls a few strings and acquires the correctly fitting bottom  bracket. I'm not sure I can disclose the details, but let's just say his efforts to get this bike rolling were far above and beyond the call of duty. We eyeball the seat & set the suspension up to recommended settings. Although it's later than I had hoped to start driving, I'm on the road by 9 pm headed to a hotel in Maryland for Saturday's 8:30 am start.
Traffic on the highways is a bear, so my GPS routes me through PA. With each turn I'm driving deeper and deeper into the boonies on narrow country roads, in pitch blackness, with few houses -an axe murder's paradise. After twenty minuets of endless turns on these roads I'm starting to wonder where I am and where the hell the highways are.
I consult my GPS which promptly crashes.
I pull over to launch the app only to find I have no signal. Of course.
What can I do at this point except keep driving? I continue on, and thankfully, the signal returns after only a few miles and I'm headed towards a highway.
Around 1:30 am I pull into the hotel parking lot. I'm surprised to see the place is quite busy at this hour, with a line of people checking in. Then I see the receptionist – in a bullet-proof cubicle. Great.
After checking in, I head to my hotel room, on the second floor which is conveniently sandwiched between the stairs and the 20 or so people drinking on the walkway/balcony. 'Doof doof' music pumps out of one of the rooms. As I head up to the stairs with my bag and my bike, I politely interrupt the couple with matching spider web neck tattoos who are tonguing in the stairwell and ask them to move so I can bring what I suddenly realize is a ridiculously expensive bike to my room.
They go lean against my car and pick up fondling where they left off.
In my room, I'm very happy to see how clean everything is. Not much space, but the locks on the door look functional and solid. I crank on the a/c to drown out the party noise and settle in for a few hours sleep. Its after  2 am at this point and my alarm is set for 6:30.
Sugar Hill – Race Day
Morning race prep routine goes smoothly and I'm at the course by 7:30. Other than a bit of grogginess I'm very excited to try the new bike.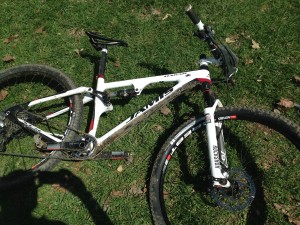 Finally, I'm at the start line. The announcer starts us off and we all bust down the road at mach speed.  A quick rise and the course juts left into a steep, loose rocky climb. I catch Florida, the girl who had the whole shot, and zip past with Laura right on my wheel. The course basically climbs and climbs. Laura passes me and I stick to her wheel for a bit. My lower back starts to ache and I realize I'm pitched on the very front of the saddle. I'm having a hard time getting the "spin in circles" feel to my pedal stroke.
Laura starts pulling away. The course is super smooth and Laura is flying. My bike feels light and agile. Florida is right behind me. I lose sight of Laura and try to put some distance on Florida on a loose, rocky descent. I'm drilling the descent at top speed. The front of the bike is jarring off the rocks and the handlebar slips out from under my hands and I go flying face first over the bars. I tuck and roll, but its a hard hit, there's blood. I'm worried about the bike – I inspect it in detail, and seeing no obvious issue hop back on and start pedaling.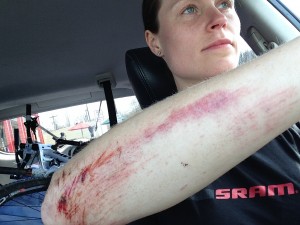 I approach a log and compress the suspension before hopping over and realize that I can't compress it more than a few millimeters. Hmm. The suspension needs some major adjustments, factory recommendations are not my style. Nothing I can do about it now, so I reassess my goals for the race. I really just need to get to know this bike!
Second lap I focus on cornering – I'm shocked to feel how the bike reacts to counter steering. It's brilliant. The slightest pull to the outside handlebar and the bike zips through the turn, lightning fast. Aww, that's really fun. The climbs are okay but I can't seem to settle into a good rhythm, or get a good spin going. I'm shifting all over the seat. I keep finding myself perching on the very front of the saddle. My wrists are fatiguing and my back is aching.
The few rock gardens are great, and the bike just floats over the gnar. So light, so easy to lift.
By the third lap, I can see Florida a few rollers behind. I'm fatiguing and starting to feel the aches from my endo. Also, I don't know where the finish line split is. I sense that Florida is gaining. At some point on the trail a guy yells out, "This is it! Head down the hill now! Unfortunately he's not standing at the trail split when he says this and the finish direction isn't marked, only the race course is marked, so of course I head along the marked trail. A woman pre-riding yells, "You're going the wrong way! Go back! Go back!"
I turn around to see Florida fly down the hill. Damn it.
I floor it.
It's a gravel road with a sweeping right turn. I'm cranking. Florida hits the pavement and throws a glance back at me. She starts sprinting. I'm at least 5 seconds behind her. The finish is just over a paved roller, maybe 150 yards away.
I hit the pavement and sprint. Max red-line.
I'm gaining, gaining fast. The finish is rapidly approaching. I keep sprinting.
We crest the roller and I'm so close, just a few feet away from her. We hit the bottom of the roller, the finish is just a few more feet away. I'm overlapping her back wheel. I keep throwing power into the pedals. I'm side by side with her. She suddenly realizes I'm accelerating past and my front wheel crosses the finish line less than a wheel length ahead of hers!
Yes!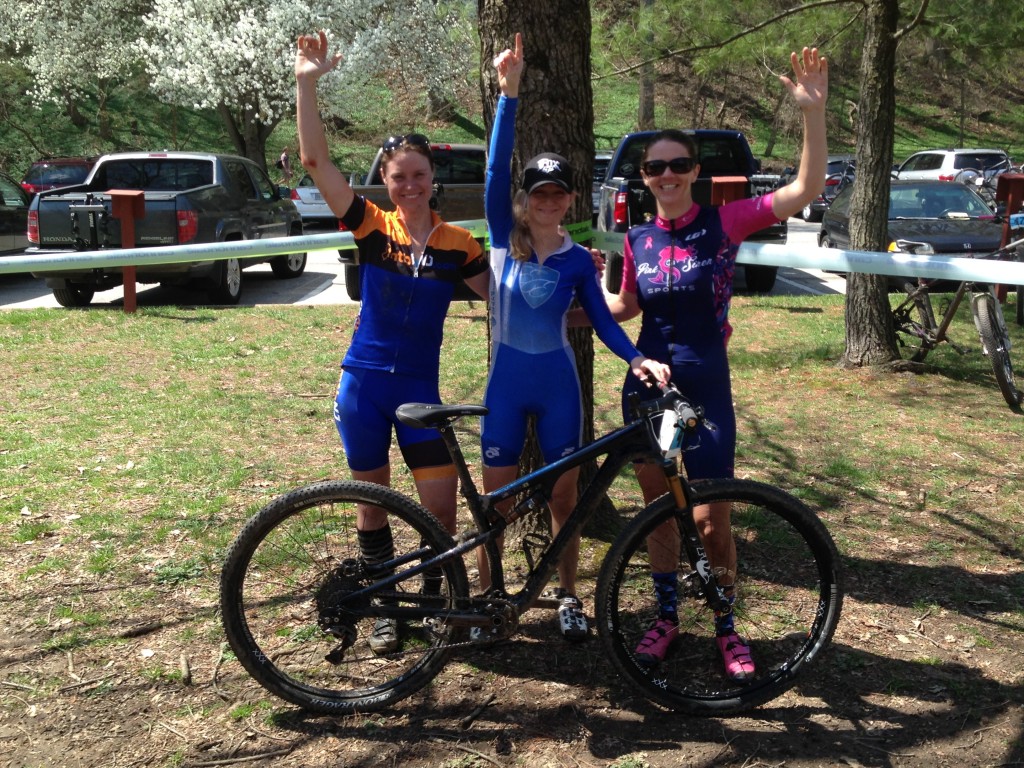 Now to scrub out the gravel, slather up with Bacitracin and race again tomorrow… Mooch Madness!