Short Track #3: Endless Sludge
My teammates suggested I try the Open Men category for this race, so I gave it a shot.
You'd think I'd learn by now, but I'm honestly shocked that every time I jump to a new tier, I expect to drown in a field of riders who are beyond my capabilities. The reality is these new categories aren't nearly as different from my previous experience as I think they will be. Short Track #3 was no exception.
I had expected the men to execute any and all tech flawlessly, but the reality was that they ride just like everybody else. Sure the guys at the front of the pack are hitting the tech smoothly and fast, but the general population is way more average than I had thought.
For myself, however, I psyched myself out. I expected to be at the back of the pack, so it's no surprise that I rode at the back of the pack.
Back to the actual race –
I had a smooth start with the guys and settled into the pack. To my surprise, the first bit of tech was bottle-necked with guys walking it.
The course was peanut butter at this point in the day and the endless sludge sapped my legs of power. I have found one of my biggest weaknesses is that I grind so hard I completely drain my legs of power, and the slower I feel I am going, the harder I grind the low cadence, further sapping my legs. Coach has had me working relentlessly on spinning a higher cadence. Unfortunately, I let the sludge take over and spent the entire race grinding through the muck.
I wasn't even enjoying the tech. A course I should have felt confident on, I was nervous and tight –leading to crappy tech skills on the descents and rocks. I was thinking more about being in the other riders way than about riding my own race. Mind over matter.
But, I trudged on. I was nearly dead last – beating only the guys that gave up – however, I'm happy I did this category. Mentally, I have a solid appreciation that these guys are not nearly as special as I imagined them to be. I pushed outside of my comfort zone and I gave myself a wake up call about thinking negatively.
Short Track Race #4 – The Final Showdown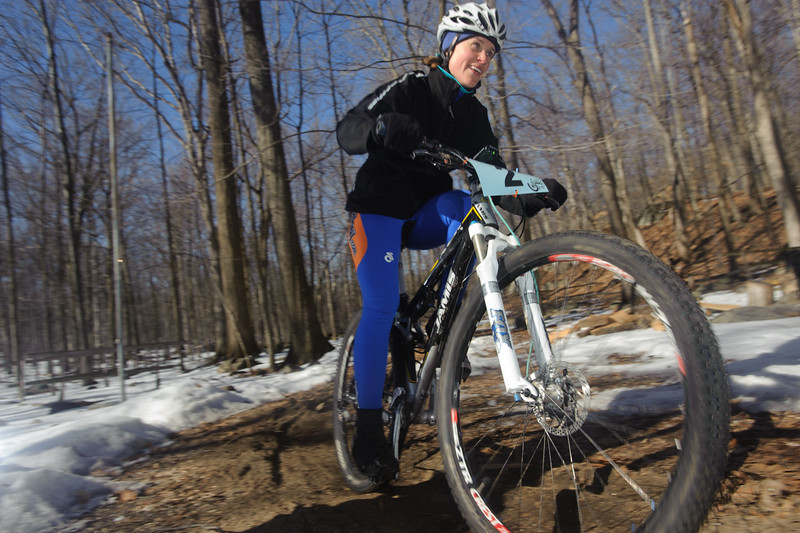 (photo courtesy of GTLuke)
It was a pretty cold day, but the sun was out and it's always a great day when I get to pull the mountain bike out. I hopped on to grab a few warm up laps only to realize my brakes were completely blown out. Although I had wiped down the bike after Short Track #3's sludge-fest, I hadn't pulled the wheels off and cleaned out the brakes thoroughly. Not only were my brake pads "barely-there", the bb7 mechanism was completely gummed up. Luckily, MTBNJ teamate 'Woody' keeps a bike shop worth of tools and parts in his trunk and he was kind enough to fixed up the brakes lickety-split. 20 mins later the back brake was working fully and I'd estimate I had 40% of the front brake. A sever improvement & a lesson learned.
My focus for the race was looking ahead and maintaining speed, I had a nice, steady start, and a solid first lap. Overall, the legs felt heavy, having come off of a hard week of training, but I keep pushing and cranking. I hit the descents at speed, but with only 40% of the front brake, I ended up with some fantastic rear wheel slides.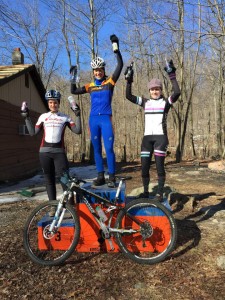 I was able to maintain a higher cadence up the climbs and hit the tech-sections well, honing in on better lines each lap. I settled into a rhythm and just kept at it. I knew the rider behind wasn't far, and that helped me focus on pushing forward instead of thinking about heavy legs.
After the first lap, I started catching the back of the Sport Men's class. Passing was a breeze compared to previous short tracks. Section by section I picked off riders, at the top of the lake a few spectators provided some really powerful cheering and seriously helped me push just a tad harder to get in front of riders before the road down.
As always, a fun atmosphere, lots of cheering from spectators and a shockingly-loud gong made for a great day.