I'm going to let you in on a secret training tool that has helped me immensely over the past couple years.
It's so simple you'll probably scoff.
It's a "Bike Journal".
Before you close this post, bear with me. Bike journals are more common than you think, but no one talks about them. Just as seasoned cyclists don't bother telling newbies that chamois and undies don't mix, no one talks about their journal. There are many different types of bike journals, ranging from objective data recording to the pouring out of one's soul, each offering a unique benefit.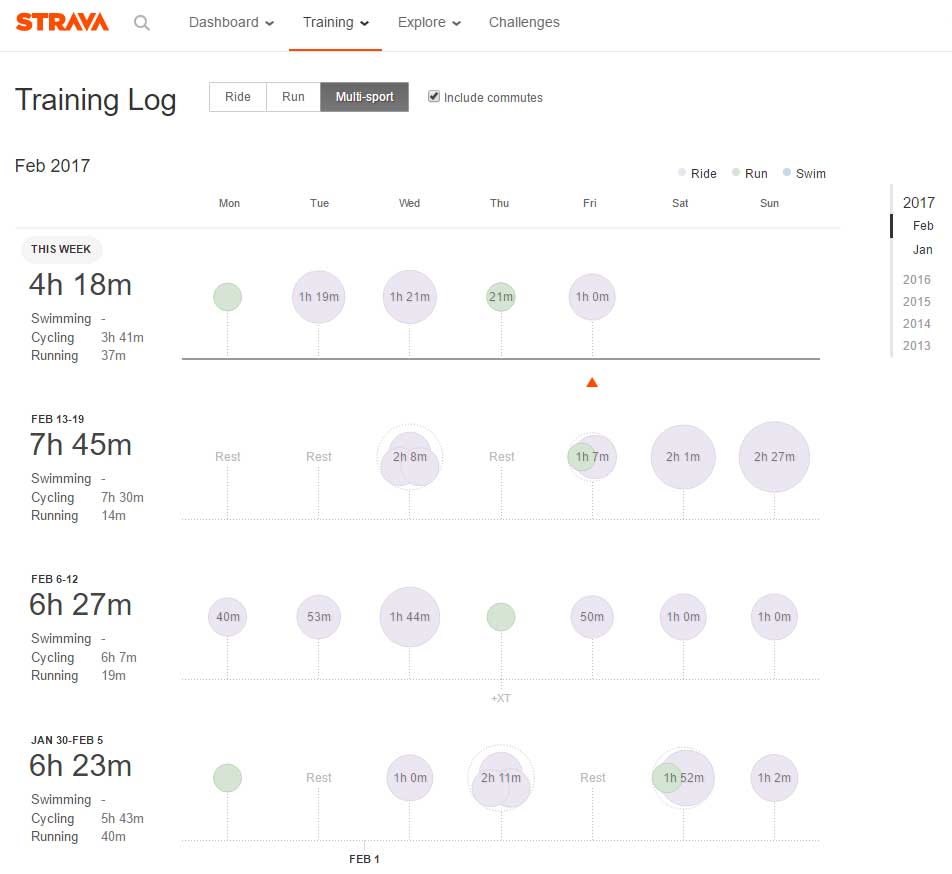 Bike Journal  #1: The Training Log
Arguably the most common journal athletes keep are training logs. Entries typically include workout distance, duration, intensity structure (intervals for example), cadence, heart rate and power. Some are likely to include comments about nutrition, perceived exertion and environmental issues. The best way to track and see your training progress is by logging it. As data collects over weeks, months and years, you have a means of evaluating progress and goal attainment.
Bike Journal #2: The Training Blog
These are digital blogs where athletes share the nitty-gritty details of their training. Though training is the central topic, the posts usually include everything in the athletes life that either supports or distracts from their training. More than you can imagine is covered – family, work, money, friends, travel, equipment, nutrition, weather, clothing, injuries, pets, socks etc…. The benefit of a public training blog is that a community of followers develops and provides feedback, support and advice. For many, this public awareness helps keep them accountable and less likely to let goals slide. See examples here.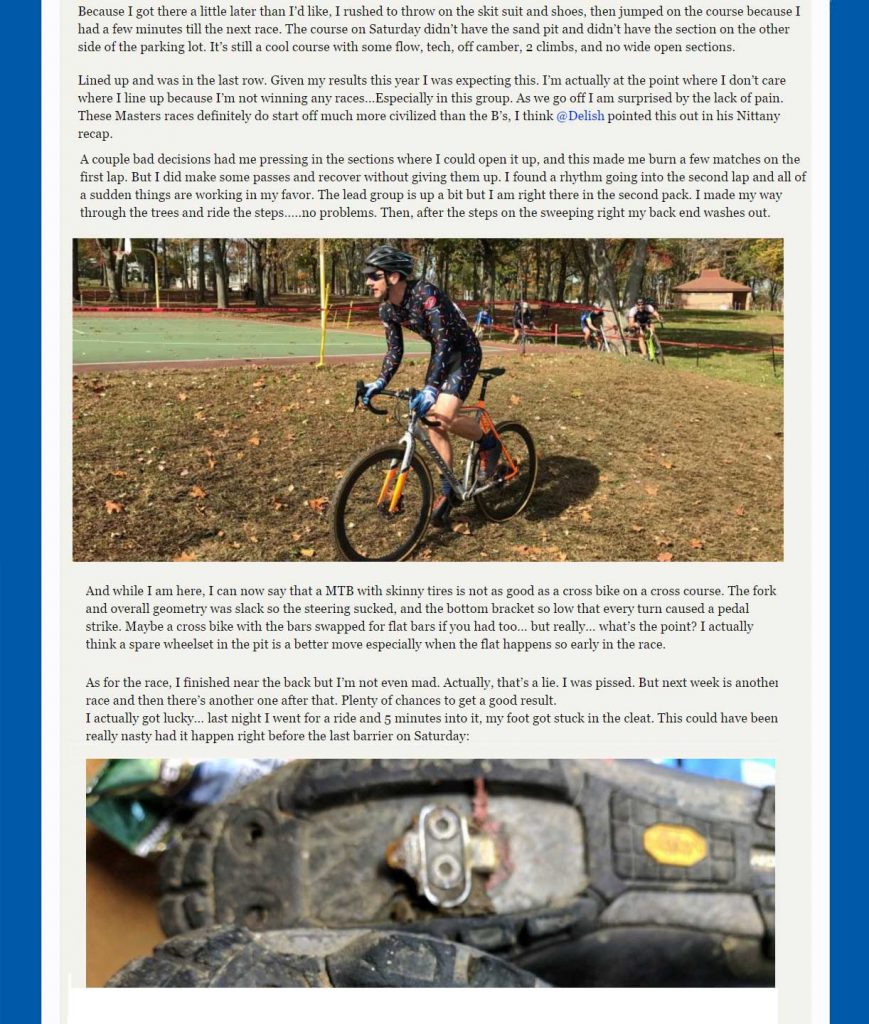 Bike Journal  #3: Race Recaps
As the name implies, 'Race Recaps' are usually limited to the experience an athlete has during a race, but will often include the state of mind and important events that impact the athlete heading into that race. The athlete may also include lessons learned, equipment used, whether the equipment was a good choice or not, as well as details of the terrain and course. Here are two public examples: Race Notes: Short Recap & The Heckle Report. I prefer to record mine the old fashion way with pen & paper.
Bike Journal #4: Race Planning
No matter what cycling discipline you adore, pre-race notes and goal setting will improve your race performance.  I find it particularly useful in preparing for an enduro stage race. While pre-riding the course, I jot down notes on my phone after each stage (pen & paper rarely survive the sweat & humidity of my pack). At the end of the day, I take my pre-ride notes and enter them into my bike journal with expanded details like overall stage characteristics, lines I've settled on, environmental markers denoting when certain sections are approaching, gear choice, seat height, tire pressure, how to tackle tricky features, etc…
I also use my bike journal to set goals outside of specific race results. Of course winning would be awesome, but a podium finish is typically a culmination of a dozen different factors, all aligning at just the right moment and less a goal that I as an individual have absolute control over. So instead of obsessing over race placing, I focus on things I can control, specifically choosing one per race, for example:
Staying calm under pressure
Riding my own pace
Looking down the trail
Maintaining speed through corners
Maintaining speed over logs
Relaxing my arms
Elbows out, knees out
Etc…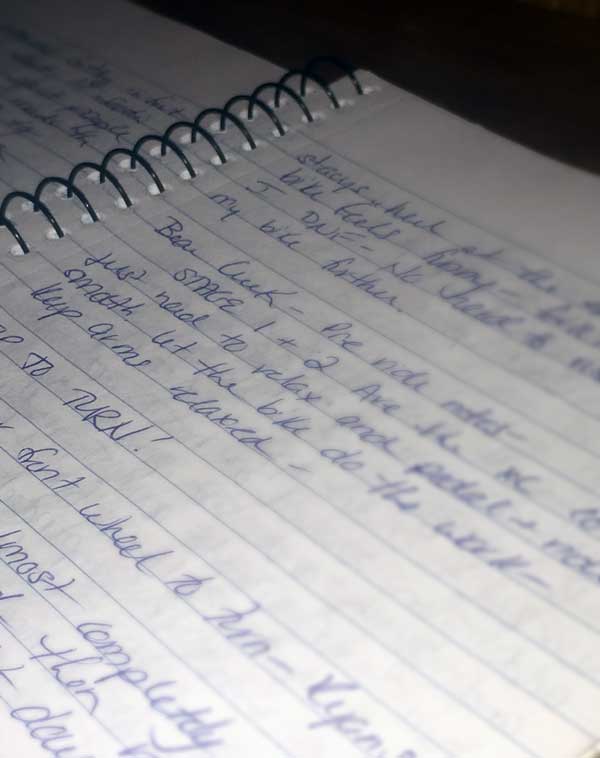 When race nerves hit, I find writing out my training and race preparations settles things right down. Jotting down positive comments and inspiring stories keeps my perspective grounded and priorities healthy. And when things aren't going as envisioned, the journal is a great place to vent my frustrations.
Bike Journal #5: Skills Development
If you've attended a typical mountain bike skills clinic, you will know just how much material is covered in a very short time. It's nearly impossible to remember all the details. Jotting down the main points that resonated with you is an easy way to optimize knowledge retention. The notes also become a great reference for trail rides. I pick one main point to focus on for the duration of a ride and practice, practice, practice.
Bike Journal #6: Coaches Practice Notes
Being an assistant coach on the NJ NICA team Essex Offroad, I quickly discovered the usefulness of writing out practice notes. With over 20 athletes on board with varying abilities, our team practices involve breaking into groups constantly. Once practice concludes, the coaches quickly chat about what worked, what didn't, the progress of the students in their group that day, skills that need to be revisited, any incidents of note and to share ideas for future practices. We sum these comments up in a an email chain and it gets transferred into a shared Google document. Not only does this create an easy reference for practice planning, it also enables any coaches who were not at practice the means to stay up to date on team progress and happenings.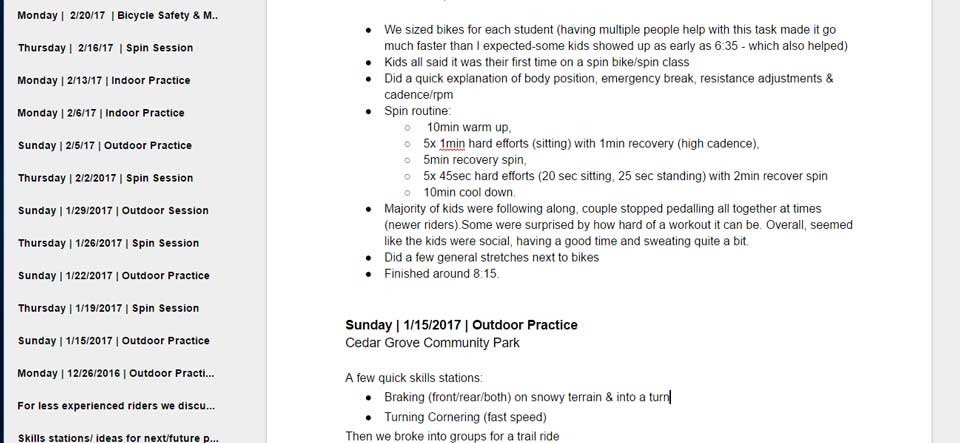 All these uses and at a cost of $5 or less
Given all the benefits a bike journal can offer, and the fact that a notebook costs under $5, is there really any reason NOT to use one?
What about you?
Do you use a bike journal? I'd love to hear about any other ways you find it useful that I didn't cover. Comment below or send me an email.
Thanks for reading!