I was adamant that I get to the race venue bright and early to preview the enduro section of the course. So by 6am on Sunday, I was already on the road driving to Rhode Island.
3 hours and change later I was exiting the highway to see house after house with stone walls of varying styles. Good sign.
By 10am it was already in the high 70's and I was on course checking out the abbreviated loop. The first climb from the start line is a gravel road that goes on and on, getting looser and rockier as we ascend. Nothing too steep, but the sheer length really wears down the legs. The single track is tight and flowy.The enduro segment is everything I'd hope it would be, beautiful berms, steep drops, gnarly rocks, punchy climbs, and the occasional log pyramid. It has a ton of obstacles and tech while allowing riders to maintain sick speeds. Tons of Fun. This race is going to test our upper bodies as much as our lower.
The end of the enduro section has a heckle pit setup with a beer hand off. Sweet. I hear someone shout "New Jersey in the House!" Nice!
I head back to the car and chill in the shade until the start time rolls around. I'm so ready for this.
My start is at 12:30, and the temperature just keeps climbing. It's brutally hot, even with the shade from the trees. The dust is kicking up into everyone faces. Racers are finishing with what looks like black soot sticking to every drop of sweat.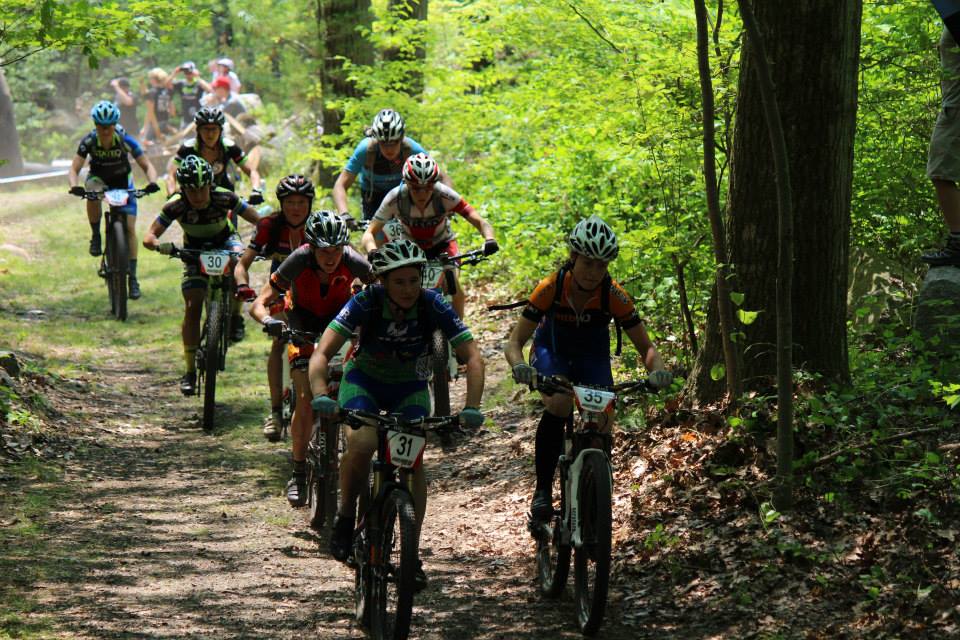 I line up with a good size group of women, and we are off! I have a clean start and charge up the hill. I'm surprised to find I'm leading the group for a portion of the climb. Just before we turn into single track 2 girls sneak by me. The group is already strung out considerably. The plan is to ride my own ride and see what happens.
A quick section of single track and then more climbing. 2 more girls squeeze by. I'm sitting around fifth.
I chug along the lap and find I'm bobbling sections of descents that I had zero issues with on the pre-ride. What's going on? I'm tense. I need to relax.
The Cat 1 guys start passing. I'm really feeling the heat. I know I only have 18oz of sports drink for the race, so I'm carefully rationing it out.
Before long I'm headed into the second lap, and I seem to be moving at a snails pace. Legs just aren't spinning the way they should be. After lumbering to the top of the climb, I focus on staying loose and relaxed on the descents. I ride these much cleaner this lap.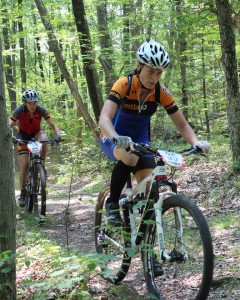 Somewhere around the end of the second lap a group of Cat 1's ask to pass in a blueberry field. I'm hurting big time, so I pull to the side and wrap my arm around a 1.5 foot diameter tree trunk so I don't have to un-clip. To my utter shock, the tree trunk starts to tip towards the trail, over the guys and me! 'The tree is falling,' I scream as I lean my weight into the tree to change the trajectory of it. It's freaking heavy! 'Holy shit!' I hear a few guys shout out. I've altered the path of the tree enough that it falls almost parallel to the trail instead of across it. Wow, that would have sucked if it landed on someones head.
I get rolling again. My legs are nearly dead. I'm switch footing like crazy on the descents to keep my legs from completely crapping out. I stop trying to roll all the drops and let myself have some fun, manualing off of a few and getting a little air. That's better.
Into the 3rd start line climb and I'm wondering why we do this to ourselves. I've completely bonked and my legs are just barely responding to my brain's request to move. But I think, I came all this way, it's a really fun course and I'll be really disappointed with myself if I don't finish. Come in dead last if I have to – just don't give up.
I'm so hungry through this lap that my stomach feels like it's going to flip out of my mouth. The taco truck in the parking lot is calling to me.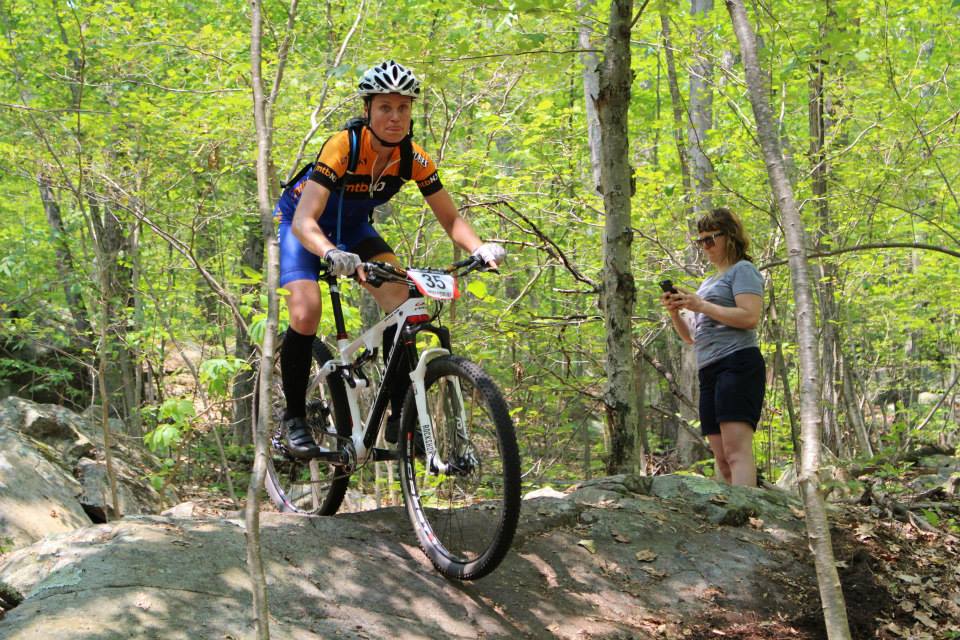 I round the lap line for the final time and I pretend there is no one around. I'm still in the middle of the woods with no ability to pull of. Just get up this climb the last time and then it's all down hill, right? No not at all, but I have to tell myself something to keep going.
This final lap is tough. My legs are sapped, I'm struggling to get up the punchy climbs. My triceps and shoulders are shot. I'm shaking them out when I can. My liquids are gone.
I'm starting to feel dizzy. I forget which lap I'm on. I keep telling myself to relax. It's beautiful in the woods.
I lose all awareness of time. I'm in survival mode. Occasionally I pass a rider or a rider passes me. I feel like a snail on any incline. The descents I try to roll as best I can and keep off the brakes.
At some point I pass a couple Cat 1 girls. I theorize that I must be almost done if I'm passing them. They look just like I feel. I offer some encouragement.
One last trip through the enduro segment and even though I'm completely wrecked, I'm loving every moment. Every muscle is fried but the flow and the speed is just such a blast. The heckle pit is a ghost town. I come through the finish and I'm trying to figure out if I'm supposed to stop or if I have another lap. The race promoter saves me by handing me the envelope for 6th place. Cash! NICE!!!
Gnar Weasels video highlights on Direwire.tv: https://youtu.be/PefLWewIIQY