(I made these ninja's for the short track race #1 awards)
Training hurdles
The weather this winter has been particularly mild in NJ, which means I've been able to get through my scheduled workouts with very little hassles. In late February I had found I wasn't able to hit some of my target watts as prescribed. 4th workout in a row that I didn't attain my mark and suddenly I'm losing motivation to complete the workout at all. This is not good at all. I just couldn't ignore the fact that although it FELT like I was hitting the targets, my power meter said otherwise. Very dis-heartening. So I turned off the power meter display. It was still recording, but at least it wasn't undermining my confidence.
Couple that with a severe calf contusion and a nasty cold and we have a recipe for disaster. It's hard to know how a few missed workouts effect my overall progress. I chose to ignore the nagging self-doubt and focus on the next workout, the next target, the next race – which is, of course, short track!
MTBNJ No Snow Short Track Series

Race #1 & lesson #1 – give the pre-race routine the time it needs.
I was a bit scattered brained heading into this race. As much as I enjoy working the registration table and chatting with everyone, I missed my warm up and barely squeezed 1 lap in. I'd never ridden here before, so I wasn't sure what to expect. I helped to build the trail, but trail maintenance provides very little intel on how a trail will ride.
I had a strong start up the gravel road and dove into the single track full speed ahead. before the end of the lap I was already feeling the pain of racing. Soon I was catching the Sport Men's group who had started ahead of the Women. There was more technical riding that I had expected and I quickly felt the fatigue building with each lap. By the last two laps I was making all sorts of silly mistakes – bobbling the rock gardens, smashing he pedals on rocks, clipping trees with the bar ends and even catching my foot under a branch. Just messy.
In the end, I held the lead for a 1st place finish, but I left this racing knowing I had a lot of ground to cover, and I'd better sort out my pre-race routine.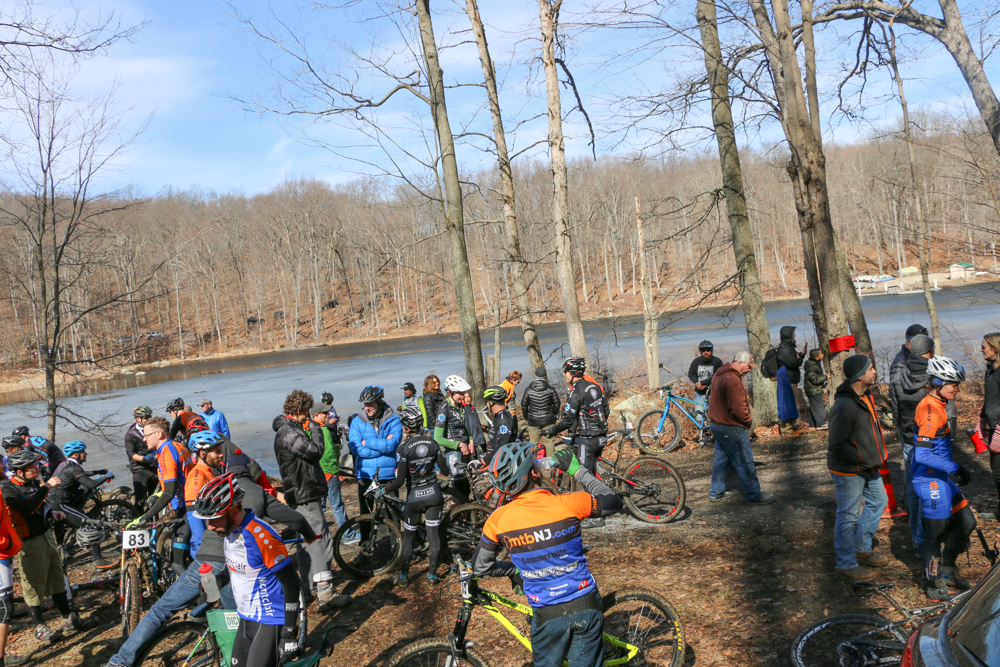 Race #2  & lesson #2 – Doesn't matter what a 100% effort looks like if you can't ride your bike while doing it.
The race course was considerably more difficult with greasy mud tracking onto the rocks and roots. I held onto a more comfortable pace than the previous race, but I was still making too many errors, including two solid wipe-outs, one giving me a gashed knee and the other knocking the grip lock-on right off my handle bars. The peanut butter thick mud on the second section of single track wore on my legs with each lap. Despite all that, I kept a positive mindset and charged on, focusing on each rider, closing the gap and making a smooth pass.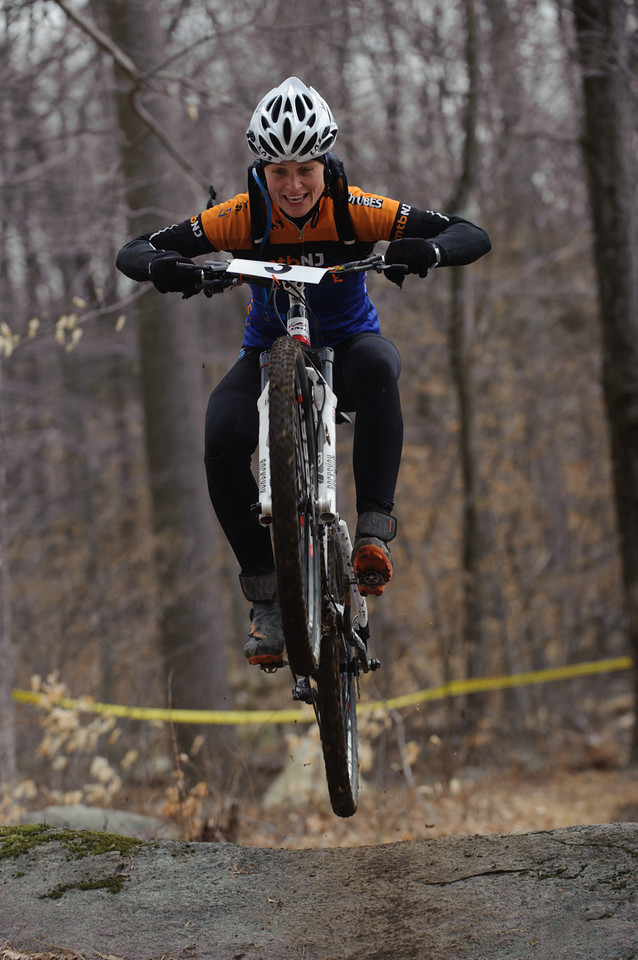 Race #3 & lesson #3 – Racing cleanly and smoothly is a lot more fun than bobbling all over the place.
I decided to go for the double header – racing both the 9am race with the Expert Men and the 10am race with the Women. Still trying to figure out my ideal race pace was my main priority – the hardest I can ride without dropping skills. The trails were dry and the weather was unseasonably warm.
When I tried racing with the men at last year's short track, the weather was wet and the trails were a sloppy mess. The entire race completely undermined my confidence and set me back mentally. This fear tickled the back of my mind, but I've been training much harder this year so I decided to ignore that negativity and focus on my own personal goals – push as hard as I can while keeping my skills sharp.
The start was stuttered, being in the middle of the pack. But I settled into a solid pace and focused on executing clean lines. I couldn't have asked for a better effort – I had very few mistakes and I pushed hard at every opportunity I could. Seeing the results after the race, I couldn't believe I had really consistent lap times – something I've never been able to do. 4 of my 5 laps were within just a few seconds of one another. Awesome, I wanted to find that race-pace sweet spot an I did!
Immediately following the finish I jumped on the line for the Women's race. We started behind the Sport Men, so there was a lot more passing involved, but I figured this is a skill i would need for the UCI races when I'm starting with a huge group of 30+ women, so this is good practice. I stayed with that sweet-spot effort I'd tapped into and was able to focus on drilling the lines and driving the bike through the trails. I just loved the way the back lollipop section rode in this direction. I really looked forward to it each lap.
By the end of the race, my legs were sapped but I felt great. Accomplished my goal and enjoyed the trails.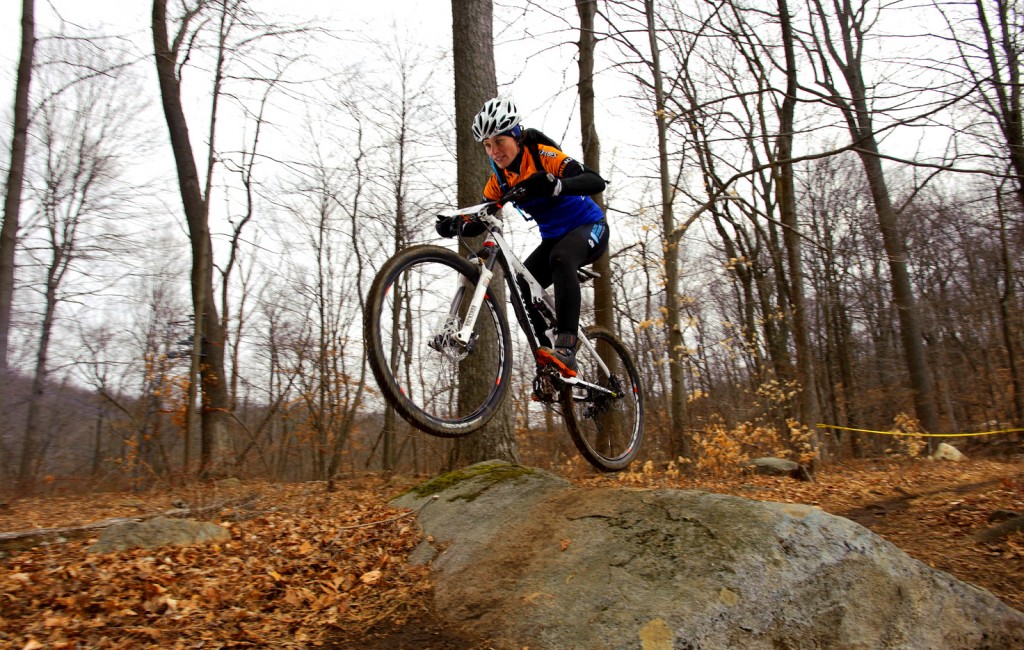 (Having fun is important for enduring a long race season!)
Race #4 & lesson #4 – Feeling like garbage is just temporary.
Jumped into the Expert Men's race again. I wasn't feeling so hot – legs sluggish, back hurtin', head cold and a major cough, but I went for it anyways. I was surprised to find that I was riding the technical sections smoothly with only a single dab the entire race, and my effort was steady, despite feeling like crap.  Right back on the line for the Women's race and I was feeling considerably better. I powered through the prologue and settled into a decent effort. I focused on working the lines, remembering to stand and sprint the road sections and out of corners, and passing quickly and efficiently. I'm very pleased with the race today and also my progress through the series.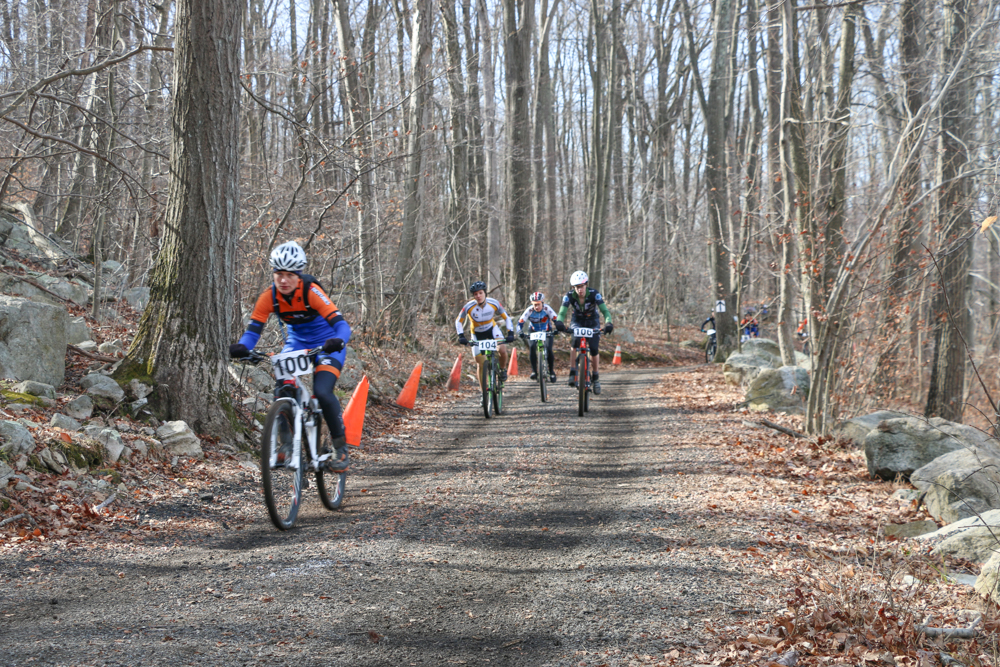 Spring and Peak #1
I'm glad I didn't fall into a negative mindset – a week of workouts without the power meter undermining my confidence really helped get my motivation back on track. I honed mental and physical skills at short track, really making the most of those races. The more I thought about the races in Cali, the harder I trained. I added extra climbs to my endurance rides, my warm ups and cool downs – just tacking on a bit more elevation when ever a workout allowed.
My training feels like it's back on point and the short rack series is over. Now it's time to nail down all the travel details to race out West. Rental car, shipping the bikes, checked baggage fees, hotels, race venue layouts, drug testing, hotel check-out times, race start times, pre-ride windows, weather, UCI rules, washing kits between rides, arranging my children's schedules, so many details!