I've said it before and I'll say it again – 2015 was an amazing year. Training, racing & skills work were the focus for the first half of the year, then I started venturing into new territories – single speeed, enduro and bmx making huge impressions in my cycling world.
Highlights from 2015:
28 races resulted in 19 top-5 finishes, 5 first place finishes, and 2 DNF's.
Won the NJ State Championships!
Made it into one of dirtwire.tv's awesome videos – Barn Burner short track highlights, and this Bloomfield Life article (Bloomfield Life Article), and GTLuke's Short Track pic made it onto Bike Rumor!
(Yes, MTBNJ snow-blowed a short track course! Yes, it was as awesome as it looks.)
I tried a lot of new things in 2015. Some of those new things required a full face helmet.
Tried my first enduro.
First time visiting Cranx Bike Park – Dirt Rock 'n' Root's women's clinic opened my eyes to this gem. The foam pit deserves its own mention.
[photomosaic link="none" size="medium" ids="576,577,585″]
Introduced my son to Cranx and he loved it even more than me. This falls under the 'firsts' category because it's the first time his enthusiasm for biking exceeded my own.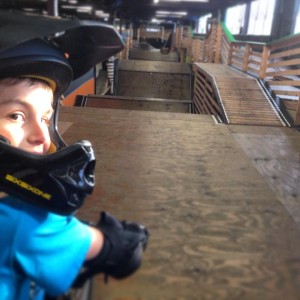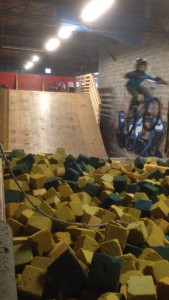 I scouted out skate parks around NJ and *finally* learned how to drop into a ramp.
Entered into my first Pro XCT, UCI sanctioned race (DNF'd), my first ProXCT Short Track, cracked the top 5 in the Kenda Cup and blew up a hub for the very first time – all in the same weekend.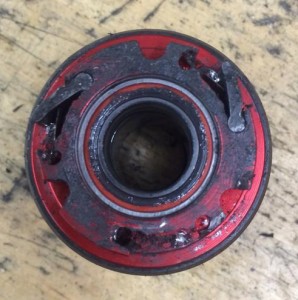 I learned how to lean a motorcycle.
Tried cyclocross racing for the first time. Yes, I have done the odd CX race in years before but this was the first year I actually had a race mentality, a cyclocross bike and trained specifically for cross. (hmm. I love those gloves, but I guess they are starting to look a bit worn.)
Ok, maybe I didn't take cx TOTALLY serious…
With all these firsts, I feel obligated to mention a few of the bumps and bruises – I landed in a tree on stage 5 of the Mountain Creek Enduro, finishing out the stage fishtailing a flat, I swear I broke a rib at Sugar Hill last spring, the skate parks pulverized my shins, and let's just say there is a very painful learning curve to remounting a cx bike properly.
The year also saw sadness with the loss of my teammate, Christopher Schilling (#singlespeedforschilling). His untimely death was heart wrenching. The impact he had made on the NJ mountain bike community was beyond words. He is inspiring even now, and I think of him often.
Lessons of 2015
CX taught me that I can race intensely, without being singularly minded on racing all day, every day. BALANCE.
An appreciation of the mountain biking community and the individuals and companies that are supporting me in my primary goal of racing. COMMUNITY.
Sports teams are a sort of family, but of all the sports I've experienced, nothing has the feeling of family extend so far past the game clock than mountain biking. Mountain biking IS a family.
People are just people – at all levels of racing. PERSPECTIVE.
I am but a child in the world of racing. There is so much more to learn.