I was surprisingly calm heading into this race. This is one of my 2 target races or "A races". I love this place, and the technical course suits me. Once I found out the State Championships were here, I couldn't wait to race.
I've been getting to races earlier than previous years. Chatting with everyone before races used to put me in a weird mind-space, but now I find relaxing – it takes my mind off the nerves.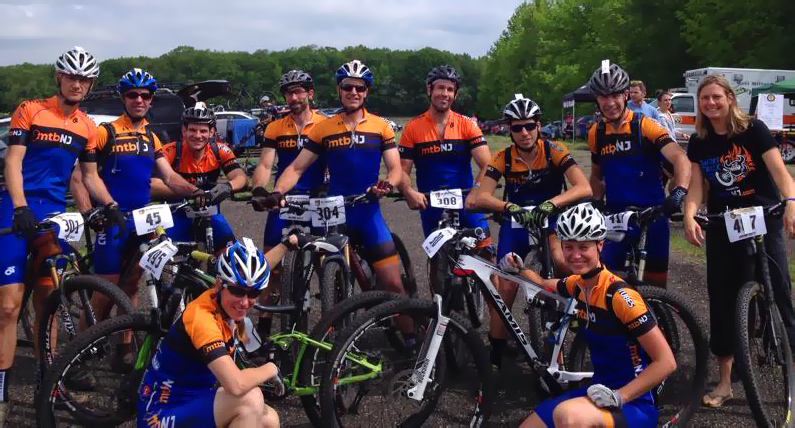 Coach Ken suggested I do some practice starts – this was an excellent idea – I was able to find a solid plan for my starting foot position and clipping in.
While we are lined up, a few stages back, a big commotion occurs upfront and someone calls over the EMTs. The guys in the tangle are up and moving before long. I later find out my teammate Utah Joe was involved in the wreck and sustained a concussion – which stinks, because this course really suits him.
Pretty soon my group is poised to go. I know some of the other riders. Dar & Maryanne of Team Campmour are both seasoned Pros and really solid riders – strong and smooth through the rocks. They are the type of riders who ride their own pace and pass everyone on the last lap, when everyone else is fatiguing.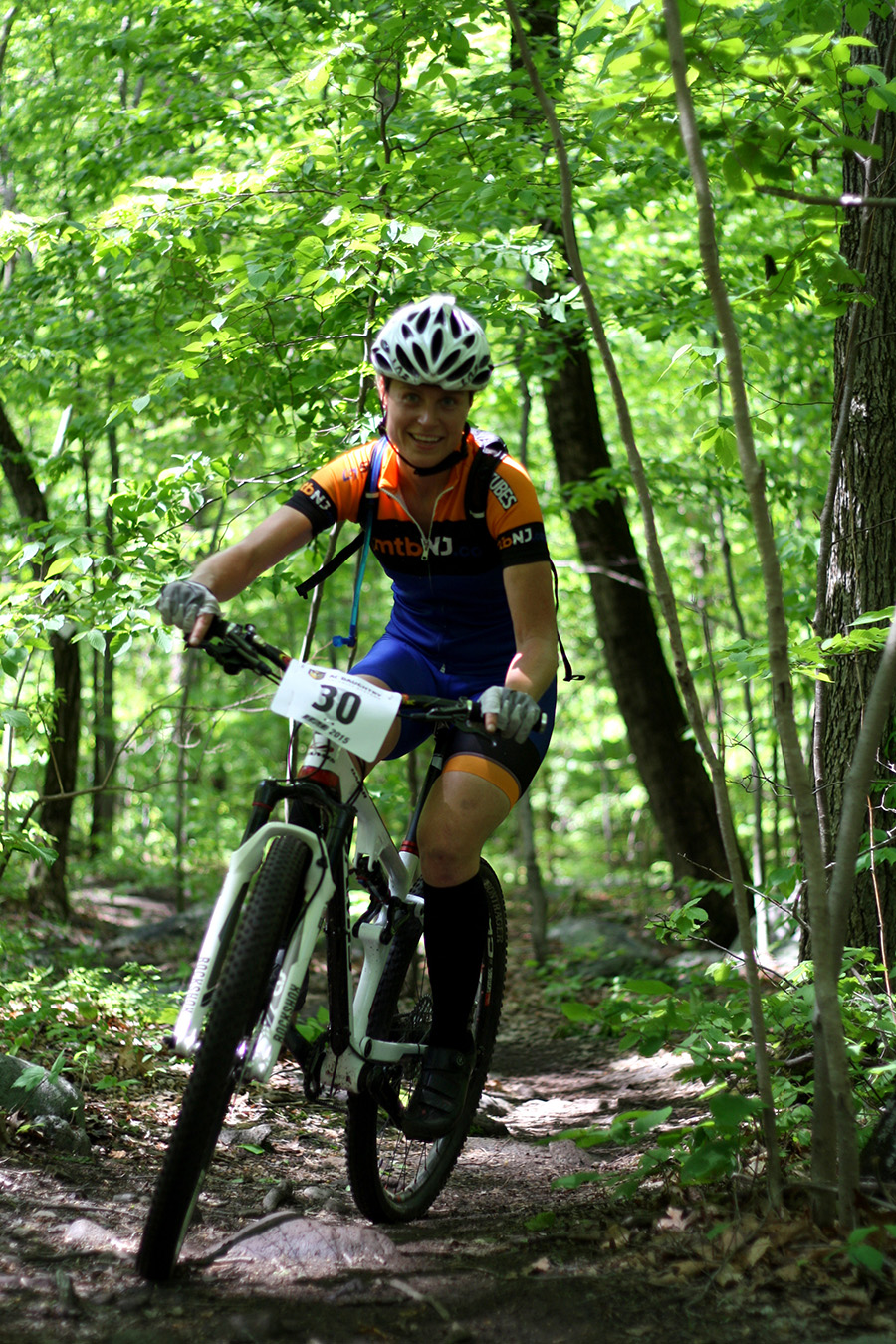 It had down-poured the day before, and although Jungle tends to drain well so that at least there are no huge mud bogs, the rocks are indeed slippery.
I hear my name shouted from the sidelines and I see my kids, Kai & Maddy and husband Jason have come!  I'm so surprised and happy I start tearing up. Jeezus! I better not cry at the start of a race. How tough is that? Deep breath. Check my foot position.
Go!
I clip in smoothly and start pedaling down the open fire road. The road descends lightly, then takes a right turn over loose, chewed up ground. I anticipated this being a rough turn within a pack, one person hits the brakes to hard and everyone will be wiped out or everyone will take it slowly and the group momentum stalls out. The road immediately starts to climb, so losing momentum at the base would make the hill doubly hard. Either way, I want to be out in front.
A few more strong pedal strokes and I've got the hole shot! I know I'll be able to take this turn faster than the pack, so I do! And I just kept pedaling, steady & strong. I'm up the climb and into single track.
The slipperiness of the rocks, along with my race excitement puts me in a rather tense position, I continually tell myself to relax, I have more dabs than I would normally on this course. With each mistake I keep telling my self to relax, get into a groove and ride clean lines.
I'm catching guys like crazy. Everyone is being incredibly gracious about letting me pass. Somewhere at the top of the climb the trails overlap (not too closely, but I didn't know that at the time) and I catch a glimpse of Dar pedaling away. I crank it up until I get to Otter Slide, the rocky switchback descent. I had taken one of the switches too hot during a pre-ride and came close to crashing hard – it would be devastating if that happened now. I dial back my speed and ride clean through the descent, then I settled into the flow and turns of Warthog. Warthog is smooth and twisty and ends with some gnarly rock gardens. I have been working on this section at the Elite Endurance Wednesday Workshops, so I know I can crank through here — as long as I kept everything smooth.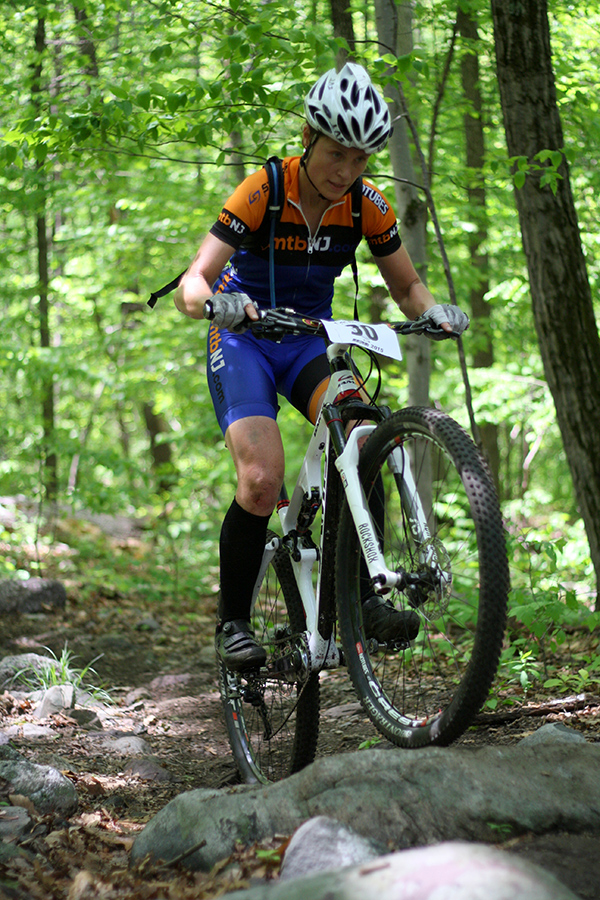 I'm catching MTBNJ guys now. That's never happened before. I see my family at the lap line cheering for me.
Into the second lap I see Dar at that same spot where the trails overlap and I think, "Oh crap! Get going!".
I take this lap harder and I end up making more mistakes. (This lap ends up being my longest lap time.) At one point I'm clipping my handlebars back and forth across the trail – feeling like a ping pong ball. Not good. Stop this and ride smart.
Coming through Warthog again, and there are so many people cheering for me – people making jokes about stopping to eat sandwiches and stopping to take a photo.
I'm thinking, what are these people talking about, Dar isn't far behind, and she's steady on rocks, I can't take that threat lightly. She's probably gaining on me this very second!
I decided to dial back the last lap only to where I've got a solid handle on flow, focusing on riding clean lines. The slipperiness of the rocks is giving everyone a harder time than expected. My back lower back is aching pretty good. As I'm headed up the climb on the final lap, I tell myself to enjoy the trails, just like in practice – have fun.
Everything relaxes and I'm feeling good again. The flow is back. Legs feel strong, I'm throwing the bike around with ease. No one passes me. I'm catching guys and passing continually. I hear someone behind me for a while and I freak out that it's Dar, but I catch a glance back and it's just a single-speeder I had passed a few minutes prior, hanging on my wheel.  I catch more guys and more MTBNJ peeps. I lose my rhythm a few times, I can feel fatigue setting in, but I am able to regain control and get right back into the flow.
I get to Warthog for the 3rd time and I know I don't have to worry about losing time through this section, I'm really grinning now. I pop out onto the pavement and I'm feeling pretty spent, I don't sprint here, but I finish strong.
And it's done! Boom!!